By
Milena Waas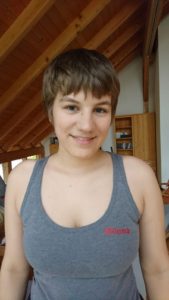 Salut! I arrived in this beautiful little village just a few days ago. I drove all the way from my small rural village on the edge of the Danube valley, Southern Germany, to Izvoarele by car. The way the landscape, town and cities changed on the way was amazing. On the end of my journey I was greeted by a place so different, but also in some ways similar to the place I called home my whole life.
I was amazed by all the animals everywhere, which just ran around instead of being carefully confined like in my home region, may it be dogs, cows, horses or sheep. The horse carriages made me feel like I traveled back in time, as I had only ever seen them as tourist traps in major cities or for traditional festivals before.
I was also happy to notice, that despite having been told that this was an agricultural region. The forests were rather preserved and land used for agricultural usage was small and in-between; at least compared to my home region, where strips of trees where rare between all the big cultivated fields. The view was just breathtaking. Despite all this there was trash laying around everywhere and in that moment I knew, that my project, to promote environmental conscious waste management, was important.
When I finally arrived in Curba de Cultura I was welcomed by the other volunteers with an elan and joy that made me feel home right away. The first day was kinda confusing, thanks to a mix of being tired because of the long drive and the mountain of information I had to process. But I quickly settled in the next few days and had a lot of fun. I hope the next few months will be as great as the few days I had till now.
Salut! Am ajuns în acest frumos sat acu câteva zile. Am condus din sătucul meu, de unde începe Dunărea, din sudul Germaniei până în Izvoarele. Modul în care peisajele și orașele s-au schimbat a fost uimitor. La finalul călătoriei mele am fost întâmpinată de un loc atât de diferit și totuși similar cu locul pe care îl numesc acasă.
M-au mirat animalele care se găsesc peste tot, care aleargă și nu sunt îngrădite precum în regiunea mea natală, fiecă că vorbim de câini, vaci, cai sau oi. Căruțele m-au făcut să mă simt ca și cum aș fi călătorit înapoi în timp, căci singurele ocazii când le-am văzut au fost când au fost folosite ca capcane pentru turiști în orașe și festivaluri tradiționale.
M-am bucurat să constat, cu toate că mi-a fost spus, că aceasta este o zonă destul de agricolă. Pădurile par păstrate, iar terenul folosit pentru agricultură este în bucăți mici și printre păduri; cel puțin în comparație cu regiunea mea unde zonele cu copaci sunt rare printre zonele cultivate. Imaginea îți taie răsuflarea. Cu toate acestea am văzut gunoi peste tot și am știut că proiectul pentru care vin este important.
Când am ajuns în cele din urmă la Curba de Cultură am fost primită de ceilalți voluntari cu un elan și o bucurie care m-a făcut să mă simt acasă. Prima zi a fost puțin confuză din cauza unui amestec de oboseală după condus un drum lung și un munte de informații pe care a trebuit să le procesez. Dar în zilele următoare toate s-au aranjat și m-am distrat bine. Sper ca și lunile următoare să fie la fel.
---
Milena este în România pentru o perioadă de cinci luni, din iulie 2018 până în noiembrie 2018, în cadrul proiectului Building Youth supportive Communities – Environment [2017-2-RO01-KA105-037748] proiect co-finanțat de Uniunea Europeană prin Programul Erasmus+ și implementat în România de către Curba de Cultură.