By
Thibaut Gillet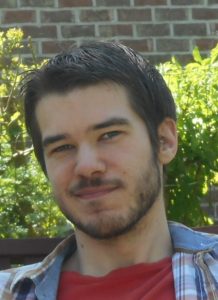 "The journey of a thousand miles begins with a single step."
Bună ziua. My name is Thibaut Gillet and I'm from Belgium. Over there I lived in a small and quiet village in a flat agricultural area. I studied geography and got my master. Then I look for a job and did some voluntary work locally on a second hand store. But I felt something wasn't going right.
I felt like I couldn't find the right place for me either because the job would be numbing and/or pointless or because I felt frustrated by the negative answers for my applications to the jobs for which I'd have been a good fit.
I needed to see and live something else… and I guess everyone who goes to EVS is looking for the same thing. I heard from EVS through a really nice organization in Belgium called "compagnons battisseurs" (not linked with the franc-macon, I asked :p). So I decided why not apply to some projects too besides the job applications.
I wanted to find an organization and a project that works in a rural area and that integrates the population around them and that want to promote some values for a better well-being for everybody. So far I really feel like I've found the right ones.
It's still a challenge for me; I've a strong side of me that just need some alone and quiet time. And I don't consider myself as a creative and extravert one. But I want to learn how to animate a group, how to get them invested, and how make them understand or grow knowledge through some fun time.
I like tennis, windsurf, and hiking. I also like maps, strategic games, video games, movies, poetry, philosophy and almost everything and everyone that can help you see things from different angles and points of view.
Bună ziua. Numele meu este Thibaut Gillet și vin din Belgia. Acolo locuiesc într-un sătuc mic și liniștit într-o zonă agricolă. Am studiat geografia și am terminat un master. Apoi mi-am căutat slujbe și am făcut puțin voluntariat la un magazin second hand local. Dar parcă ceva nu mergea bine.
Mi se părea ă nu găsesc locul potrivit și asta ori pentru locul de muncă va fi plictisitor sau fără rost ori pentru că eram frustrat din cauza refuzurilor din partea angajatorilor pentru joburile la care mă simțeam potrivit.
Așa că voiam să văd și să trăiesc altceva… și cred că totți cei care merg în SEV caută același lucru. Am auzit despre SEV prin intermediul unei organizații din Belgia numită "compagnons battisseurs" (fără vreo legătura cu franc-masonii, am întrebat :P). Și am aplicat și la astfel de proiecte pe lângă locurile de muncă.
Am vrut o organizație și un proiect într-o zonă rurală care să integreze populația din jur și care să promoveze valorile unui trai propsper pentru toți. Până acum mi se pare că am găsit-o pe cea potrivită.
Este însă în continuare o provocare pentru mine. O mare parte din mine vrea singurătate și timp pentru sine. Și nu mă consider creativ ori extrovert. Dar vreau să învăț cum să animez un grup, cum să îi implic și cum să le transfer cunoștințe într-un mod distractiv.
Imi plac tenisul, winsurfingul și drumețiile. De asemenea îmi plac hărțile, jocurile de strategie, jocurile video, filmele, poezia, filosofia și aproape tot sau toți cei care mă pot ajuta să văd lucrurile din unghiuri și perspective diferite.
---
Thibaut este în România pentru o perioadă de șase luni, din iunie până în decembrie 2018, în cadrul proiectului Behind Borders [2017-2-BE05-KA105-002181] proiect co-finanțat de Uniunea Europeană prin Programul Erasmus+ și implementat în România de către Curba de Cultură.