By
Anna Seweryn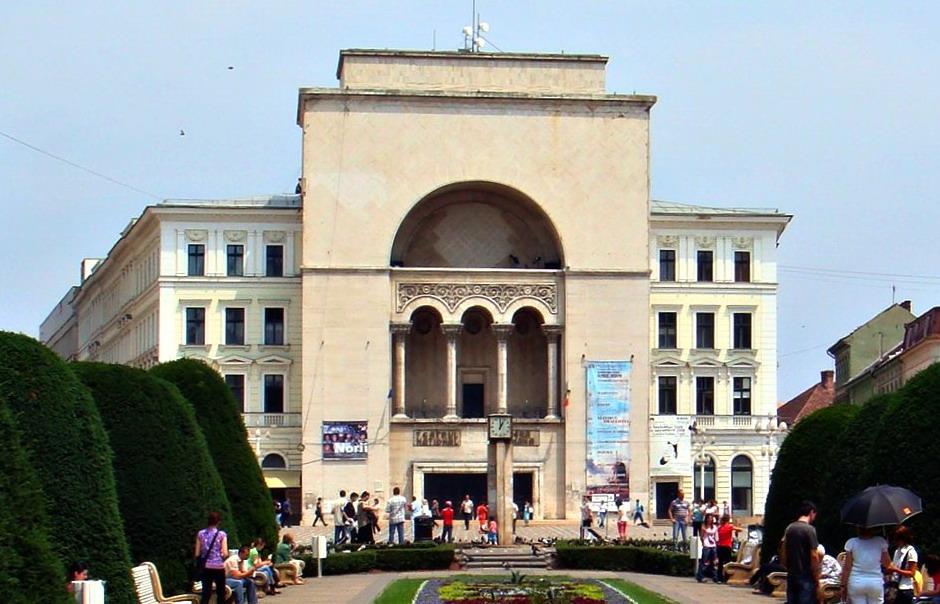 Warm, sunny weather and tempting, stunning Romania- it all gave me an opportunity to take some adventure and discover some unknown for me areas of this amazing country. I decided to go to Timișoara!
Timișoara is one of the biggest cities in western part of Romania and the main social, economic and culture centre there. Before my trip I didn't know much about the city, but everyone said it's one of this places you should visit if you stay in Romania for a longer period of time, because of its importance, beautiful architecture and great… "vibes". The only problem was, how to get there! Timișoara is (unfortunately) located on the other side of the country than my home during EVS (Homorâciu village).  Because I took this decision of going there quite spontaneously, it was too late to book some cheap flight tickets. That's why I decided to go by train.
The whole trip was quite exhaustive. I had to get to Bucharest first, wait about 4 hours for a train and then my train finally arrived. It took me about 11 hours to put my feet on the ground. Luckily, I traveled by night, so I could sleep a little. I was surprised how safe I felt traveling alone through the whole country. I wasn't afraid of being robbed, I have deep dose of trust and faith in people. I find Romanians friendly and helpful so it is easier to feel comfortable here. Also Romanian trains look exactly same as in Poland, which gives me a feeling of security.
I spend two days in Timișoara, where I met with an old friend of mine from Poland. It was an amazing experience to see someone for the first time since very long time and to do that in Romania. We spend joyful time there, visiting Orthodox churches, which are very interesting and for me. I am attracted to different cultures and this architecture style I find very appealing. We enjoyed our time in local pubs and restaurant, which Timișoara is full of. I saw the most famous and beautiful areas there. In this city there are many cultural events and festivals so it was quite a pity, that I had so little time and couldn't participate. But the whole weekend was super cool anyway.
Unfortunately, as people say, all good things always must to come an end. The same was with my Timișoara adventure. After two amazing days in the city I had to say goodbye to this place. The long way back was waiting for me. I went by a train again and came back to Homorâciu .
For me it was my first long journey, here in Romania. I'm happy I could spend some time in such attractive, enjoyable city. I hope I will return there one day, but I'm looking forward to see other important places in this country too!
Vremea caldă, însorită și o Românie tentantă și uimitoare – mi-a dat șansa de a lua parte într-o aventură și de a-i descoperi părți mai puțin cunoascute. Așa am decis să merg în Timișoara.
Timișoara e unul dintre cele mai mari orașe din vestul Românieiși centru social, cultural și economic. Înainte de a călători acolo nu cunoșteam orașul, dar toți ziceua că e un loc de vizitat dacă stai în România ceva mai mult timp, datorită importanței, arhitecturii frumoase și datorită energiilor pozitive. Singura problemă era să ajung acolo. Timișoara e din păcate localizată în cealaltă parte a țării decât casa mea din timpul SEV-ului (satul Homorâciu). Pentru că am decis destul de spontan că voi merge acolo a fost cam târziu să iau avionul. Așa se face că am mers cu trenul.
Călătoria a fost destul de obositoare. Am mers întâi la București, am așteptat 4 ore un tren și în cele in urmă a sosit. Mi-a luat 11 ore să ajung. Din fereicire am călătorit pe durata nopții, așa că am dormit puțin. Am fost surprinsă cât de în siguranță m-am simțit călătorind singură prin țară. Nu mi-a fost teamă de a fi jefuită, am o doză mare de încredere în oameni. Românii sunt destul de prietenoși și săritori, deci e simplu să te simți confortabil. În plus trenurile românești arată ca cele din Polonia, ceea ce mi-a dat un sentiment de siguranță.
Am petrecut 2 zile în Timișoara unde m-am întâlnit cu un prieten din Polonia. A fost minunat să văd pe cineva după o lungă perioadă de timp și mai ales în România. Am petrecut un timp minunat, am văzut biserici ortodoxe, care sunt foarte interesante pentru mine. Sunt atrasă de diferite culturi și găsesc acest stil arhitectual foarte captivant. Ne-am simțit bine în localuri și restaurante, de care sunt din belșug în Timișoara. Am văzut cele mai faimoase și frumoase zone de acolo. În oraș sunt numeroase evenimente culturale și festivaluri și mi-a părut rău că din cauza timpului scurt nu am putut participa la ele. Întregul sfârșit de săptămână a fost minunat.
Din păcate lucruril bune nu țin mult. La fel a fost și cu aventura mea în Timișoara. După două zile minunate în oraș a trebuit să zic la revedere acestui loc minunat. o călătorie lungă de întors mă aștepta. Și din nou cu trenul până la Homorâciu.
Asta a fost prima mea călătorie lungă aici în România. Și am petrecut timp minunat într-un oraș atractiv și agreabil. Sper să mă întorc într-o altă zi, dar abia aștept să văd și alte locuri din țara asta!
---
Anna este în România pentru o perioadă de șase luni, din martie 2018 până în august 2018, în cadrul proiectului Active Youth in Rural Settings [2017-1-PL01-KA105-035693] proiect co-finanțat de Uniunea Europeană prin Programul Erasmus+ și implementat în România de către Curba de Cultură.