By
Estelle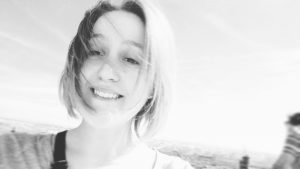 Hi! I'm Estelle and I am 25. I arrived in Curba de Cultura on the 10th of April and I received a warm welcome by Sorin and Kristina on the first day and the same on the second day by other people. For the moment, I am the only volunteer in the association. It is just a lot of information, foreign languages and news of all sorts. It's a new life which I start! And I'm really happy to be here for live this experience.
Before coming here, I worked in graphic design and photography. But I quit all I did for another experience as EVS volunteer. It's THE experience of my life and I think it's time for me to do what I still desire!
And I don't know if it will be easy to learn Romanian language, but I will need to learn some words as fast as possible, just to understand people who talk around me. Some words are similar with French and English but very few, unfortunately. I tried to teach romanians some french words but they are a little bit surprised by the pronunciation… I don't understand why! 😉
Salut! Eu sunt Estelle și am 25 de ani. Am ajuns la Curba de Cultură pe 10 Aprilie și am fost primită călduros de către Sorin și Kristina în prima zi, și am fost trată la fel și în cea de-a doua de alți oameni. Pentru moment sunt singurul voluntar de aici. Am primit multă informație, multă limbi străină și tot felul de noutăți. Încep o viață nouă! Și mă bucur să sunt aici și să trăiesc această experiență.
Înainte de a veni aici am lucrat ca designer grafic și fotograf. Dar am renunțat la tot ce făceam pentru experiența de voluntar SEV. Este Experiența vieții mele și cred că e vremea să fac ceea ce îmi doresc.
Nu știu dacă va fi ușor să învăț română, dar va trebui să învăț câteva cuvinte cât de repede posibil, să înțeleg ce vorbesc oamenii în jurul meu. Unele cuvinte sunt asemănătoare cu cele din franceză sau engleză dar puține, din păcate. Am încercat și îi învăț pe câșiva români cuvinte franțuzești iar ei au fost surprinși de pronunția mea… Nu înțeleg de ce! 😉
---
Estelle este în România pentru o perioadă de nouă luni, din aprilie până în decembrie 2017, în cadrul proiectului EVS20: Let's Move and Change [2016-3-FR02-KA105-012345] proiect co-finanțat de Uniunea Europeană prin Programul Erasmus+ și implementat în România de către Curba de Cultură.